-25% DISCOUNT ON OUR ALL CLEARVISION RANGE
Latest generation contact lenses for all wearers at a competitive price!
How to benefit from this promotion:
Get your 25% discount on a super easy way
1.
Choose the ClearVision contact lenses that best suit you
2.
Add them to your basket
3.
You 25% discount is applied
4.
Sit back, relax and wait for your contact
Can only be used once per account. It cannot be combined with other promotions and/or deals, is not applicable on orders already been made nor can it be changed for cash. Can only be used on 123optic.com.
Discover the newest ClearVision daily lenses!
Say goodbye to dry eyes! The bio-inspired material from which the ClearVision Bio Fresh 1 day is made prevents blurry vision. The lenses have an anti-dehydrating effect because they imitate the natural action of your tears. Ensuring the necessary oxygen for your eyes to keep them healthy.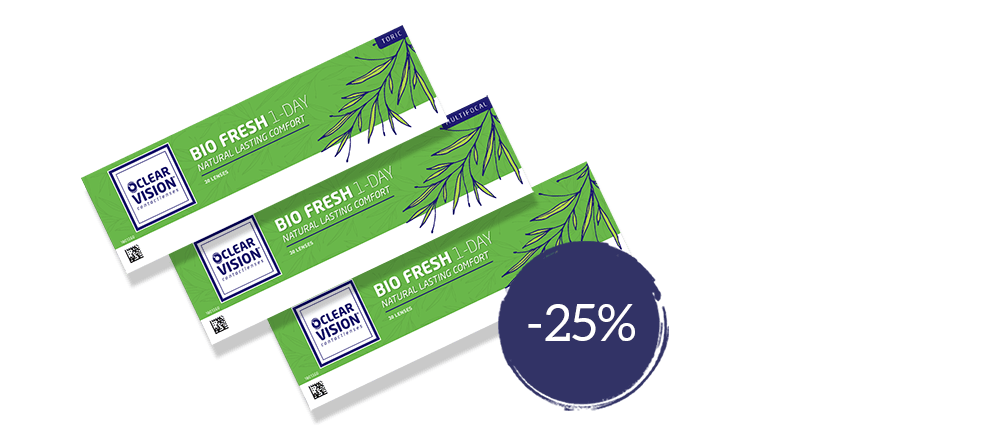 Discover the newest ClearVision monthly lenses!
The Clearvision Intense lenses with MoistureSeal technology correct your vision, while still keeping your eyes hydrated. These monthly lenses retain up to 95% of their moisture, even after 16 hours of use. They are available as spherical, toric and multifocal monthly lenses. Order your monthly lenses and get 25% discount on your order!